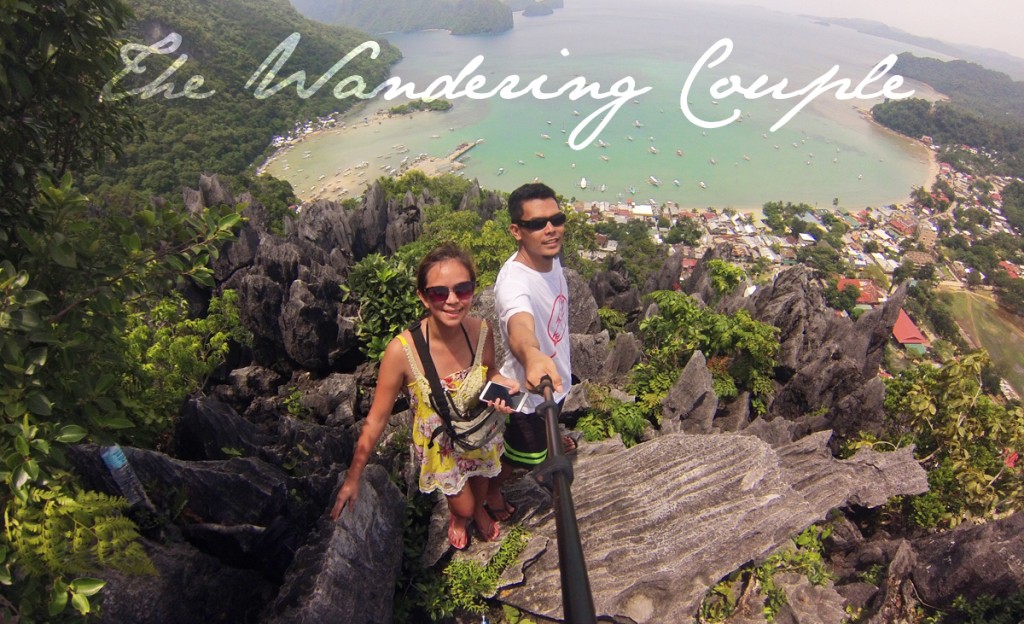 Changemaker (n) – one who breaks the mold and challenges the status quo for the better. Meet a real life couple who decided to have a life more exciting than the usual 9 to 5 by publishing a travel blog.
Before quitting your day job, make sure you have enough savings to get you through at least a year because you will never know when you'll strike gold with freelance or home-based jobs. Landing a home-based job is more about perseverance and a whole lot of luck.
A lot of us get two weeks in a year. Two weeks to take a breather from the office cubicle, see new sights, learn a new culture. For most of us, these two weeks are more than enough. For some, however, these restrictions imposed by a 9 to 5 lifestyle just won't do. What's more, some of these bold individuals have actually built not only a lifestyle but a means of living around travelling and having adventures.
Meet Sheena and Edcel Cezina, more famously known as The Wandering Couple. The travel blogging duo are real life partners who decided to see the world together, and share their travel stories through their blog. 8 years later, Sheena and Edcel are successfully sustaining their family and lifestyle through their blog and home-based jobs. They are also spending more time and experiences together than the average couple.
We caught up with The Wandering Couple in between trips, and they generously shared tips on how to travel as a couple, as well as how to successfully start and run a travel blog:
Your blog is really unique as it features not only travel guides but your experiences and adventures as a

couple

. What inspired you to start The

Wandering

Couple

? Have you always been into travelling as a

couple

?
The thought of starting the blog was just so we do not need to answer questions from friends over and over about our travels.
So we thought starting the blog would be great as we can just write an article about the place and direct our friends to the site.
We started travelling as a couple 4 months into the relationship and from then on, we just often saw ourselves in a different province in the Philippines or in another country. That itch to travel is real no matter how cliche that sounds.
What were some of the challenges you faced when you were starting out with your blog? Did it cost a lot to get started?
Starting the blog was not much of an issue as I have been blogging for some time before I told my girlfriend of possibly documenting our travels on a blog.
The most challenging thing is maintaining the site with content and that's where we hit a wall for the past years. We continued travelling the past years but failed to update our blog because most of our time was spent finishing a College degree, working and trying to live a life.
Just when our 'followers' were growing, we hit that really big wall that we could not jump over. Writer's block would be an understatement. We consider it as "Writer's Great Wall with thorns on fences plus a really big pond with 5 hungry Great White Sharks". Yes, it was that bad.
To make up for not writing, we created travel videos to document our past travels and engaged more on our Facebook and Instagram. We have just recently started writing again and I feel we have passed the 5 hungry Great Whites.
Do you have any advice to those who want to start blogging as a full-time profession? Is it possible or cost-effective to make a living out of it?
We have not done full-time blogging as a profession. Both of us have other home-based jobs that have been our primary source of income for the past years. We know a number of people who blog full-time day in and day out and they've been happy with it too, as well as their bank accounts.
To anybody who wants to try doing home-based jobs (blogging,virtual assistant, tech support, web development and design) you just got to take that leap of faith, but make sure you have a thick cushion to fall onto. Before quitting your day job, make sure you have enough savings to get you through at least a year because you will never know when you'll strike gold with freelance or home-based jobs. Landing a home-based job is more about perseverance and a whole lot of luck.
Also, home-based jobs are not for everyone. We know a number of people who went back to their corporate jobs as they just miss waking up early to work, driving/commuting through traffic, getting overworked and underpaid, getting denied a vacation leave and others.
Why is travelling important? Why should Filipinos set aside some budget for it?
We will try to narrow this down to couples. Filipino couples. You see, a number of relationships fail nowadays because of monotony. We are not relationship experts, but we are sure that we will not last near 8 years into our relationship if we did not travel regularly. We wrote an article a few years back about this.
Also, in a day where Social Media has become part of our lives, your girlfriend will definitely love it if you can bring her to a nice beach ormountain every now and then so she can post on her Instagram/Facebook, #OOTD #wanderlust #relationshipgoals #wishyouwerehere.
For the young and single dudes and dudettes hoping to find true love, pack your bags and head somewhere, Mr/Mrs right could also be out there somewhere waiting for you on a bus/plane/tricycle/trike/habal-habal. You never know.
What is the best, cheapest trip you've ever gone on as a

couple

? Can you please tell us about your adventure?
It is hard to quantify 'cheap' because each place we have visited has a certain 'cost of living' so it will be difficult to compare the expenses on a trip to Cambodia to a trip to South Korea.
Considering bang for the buck, the trip to Tokyo Japan in 2015 will be the more cost-effective trip considering all the stories of Japan being expensive and the possibility of breaking the bank when you are there.
---
Looking for a Low-Interest Loan to Fund Your Next Vacation? Check if You Qualify with our Personal Loan Calculator
Find the funds you need with Loansolutions, the Philippines #1 Loans Marketplace. Our 3-Step Online Loan Application is cross-referenced with the criteria of top banks and legitimate lenders in the Philippines, to make sure that we find lowest interest loans that you can qualify for.  A dedicated Loansolutions Concierge will contact you to answer all your loan questions, and help review and submit the required documents to banks and lenders on your behalf. See if you qualify for a legitimate loan with our personal loan calculator. We'll help you get the loan to fund that dream vacation and tick off a an item from your bucket list.
Compute How Much Loan I Qualify for with a Personal Loan Calculator